A soldier is not just a person in uniform — a true soldier has specific values like Loyalty, Courage, Selfless Service and Love for his home. Ours is a country, where two-legged and four-legged warriors are considered equal members of a team cut from the same cloth, creating unbreakable bonds and developing lethal fighting capabilities under fatal courses with communication travelling up and down the leash in a nameless language. Dogs in Indian Army serving together with their comrades and proving their mettle at ground zero, are an embodiment of true brotherhood.
"The relation between a soldier and the dog is as old as the battlefield itself."
1. DIVISION MANAGING DOGS IN INDIAN ARMY
The Remount and Veterinary Corps (RVC) division looks after the breeding, rearing and training of all animals used in the Indian Army. Records say, the RVC is one of the oldest administrative and operational branches of the army established in 1920. Primarily, the Army Veterinary School functioned at Poona till 1929 before it moved to Ambala. The Centre was re-arranged at Ambala in 1942, later moved to Sabathu in May 1947 and finally to Meerut in 1948.
Currently, RVC centre in Meerut has completed the training of six Mudhol Hounds, who will probably be posted for several operations and routine duties in Jammu and Kashmir anytime soon.
2. THE BREEDS
The moment you think about dogs in Indian Army, you imagine a German Shepherd Dog or a Labrador on duty. It's an image that we've seen so many times in movies and television shows. But you will be surprised to know the enlisted K-9s. When you dig into the history or review the current updates of dogs in Indian Army, it's amazing to see the wide range of dog breeds performing a wide range of tasks in the armed service.
Interestingly, dogs in Indian Army belong to specific breeds and traits. Most of the dogs are a part of the Great Swiss Mountain, German Shepherd, Belgian Malinois and Labrador family. However, the latest inclusion of the local Indian breeds- Mudhol Hounds and Bhakarwal Dogs have changed the rules of the game. Mudhol hounds are products of three breeds: The Sloughi Dog, the Saluki and the Greyhound, all of which are sight hounds. Bhakarwal Dogs are Himalayan dog breeds known for their might and excellent guarding skills.
Additionally, Combai Dog and Pandikona, prominent Terrier breeds native to Southern India, have been incorporated for their strength and defending skills in security and defence forces in India. The security forces will also be training Indian breeds like Chippiparai (Tamil Nadu), Tangkhul Hui (Manipur) and other Indian breeds on pilot project basis.
Also read – Indian Breeds Of Dogs I Bet You Didn't Know About
3. RECRUITMENT ELIGIBILITY
Recruitment of dogs in Indian Army is quite rigorous. Like the soldiers, dogs in Indian Army too undergo field trials and rigorous training of their level, and only some of them make it through while others are rejected. Dogs get selected on the basis of exceptional breed traits and corresponding requirement, but the inherent desire of the dog to please its master makes the task of training the dog easier. Others get rejected mostly due to health issues, hip dysplasia being the most common one found in dogs.
Although any dog breed in fine fettle can be easily trained, the most optimal choices for army dogs include the German Shepherd, Belgian Malinois, Labradors, and in a first, Desi Indie Dogs because of their natural ability to adapt to any training schedule and harsh tropical weathers. Significantly, the Indian dog breeds are outperforming their exotic counterparts with their unique traits. In an interview, a director of a canine research and information centre stated that, a Mudhol Hound can complete a task in only 40 seconds, whereas a German Shepherd or Labrador takes 90 seconds for the same.
4. JOB ROLES OF DOGS IN INDIAN ARMY
Dogs in Indian Army act as force multipliers in various counter terror operations and attack. The Indian Army deploys the selected dogs for eight different requirements — tracking, guarding, mine detection, explosive detection, infantry patrol, AOR, search and rescue, assault and narcotic detection. They have also heroically saved lives of their handlers, troops and common folks during avalanches, earthquakes and other natural disasters.
The army dogs are vital for search and rescue operations where they have to assist in recovering explosives. Without them, the search operations would be ineffective. They are taught to respond to army-specific hand gestures and verbal commands by their handlers. During extensive training, the army dogs are instructed in commands that require them to hold their barks in situations of combat, in order not to reveal their position to the enemy.
The excellence of the dogs in Indian Army is reflected by the increasing demand from friendly foreign countries such as Nepal, Bangladesh, Sri Lanka, Myanmar, Cambodia and South Africa to adopt dogs trained by the Remount and Veterinary Corps (RVC) in India, and getting their own army troops trained through dog-handling courses organized by the Indian Army.
5. THE TRAINING CELL
Intensive dog training is an integral part of grooming these canine soldiers. However, dogs trained and groomed by private organizations can't get included in the K9 Army Unit and only a government organization is authorized to do the needful.
The armed forces have many brave dogs who not only live for the country but also sacrifice themselves for the country. These dogs are trained by expert and experienced soldiers from the Remount and Veterinary Corps (RVC).
The RVC and National Training Centre for Dogs (NTDC, an ISO 9001-2000 certified in dog training) are the prime organizations known to impart targeted training to dogs in Indian Army. Right from breeding and training to nurturing and rehabilitation, these government institutes extend comprehensive support to the four-legged warriors. The dogs trained at these institutes have given outstanding performances at their workplace.
6. JOB INITIATION & GOALS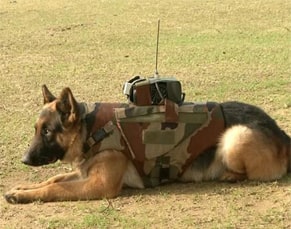 Recruited army dogs require to take the first step in an operation, which is to bond with their handlers. This is followed by basic obedience training, battle inoculation, and eventually by targeted training. However, every authorized institution follows a specific module while training the Army dogs. The goal is to prepare the dogs in such a way that they turn out to be as the finest assistance for the army-men. Here are some of the objectives listed by organizations like NTDC:
-Training the four-legged soldiers as well as their handlers
-Providing training for dog care and kennel management
-Training officers of CPO and BSF in dog management
-Developing latest techniques for intensive dog training
-Rearing and breeding pedigree pups
Some categories of action for the dogs in Indian Army involve:
Body Control: Dogs in Indian Army are trained to master various techniques and actions. These dogs can even gain control over their barks and body parts in cases of extreme emergency.
Search Operations: The terrific sniffing capabilities of army dogs help in the identification of explosives, mines, or a potential hidden danger.
Quick Responses: The army dogs have extraordinary skills to understand their handlers' instructions and respond fearlessly to hand gestures even in the battlefield.
Rescue Works: During earthquakes, avalanches, and other disasters, army dogs have performed several rescue duties. When buildings collapse, rescue teams require added help. These finely trained army dogs locate and sniff out survivors buried deep under the rubble.
Natural Adaptive Capacity: One of the most significant traits of these canines is their efficiency and natural adaptability in diverse situations. No matter what the training schedule, these four-legged warriors will surely adapt to it.
7. FOOD SERVICES FOR DOGS IN INDIAN ARMY
Food habits of army dogs differ from that of a common dog. While in service, dogs in Indian Army eat cooked-meals. Their performance and productivity will depend mainly on their health and nutrition. Hence, it is essential to provide them a healthy diet. Food habits of army dogs change a lot after retirement. Nonetheless, retired canine soldiers eat pedigree or any canine food.
Also read – Top 10 American breeds of dogs you will definitely want to know about
8. RETIREMENT
The average service period of dogs in Indian Army lasts between 6-8 years. Once these courageous performers and brave canine soldiers retire, they are given an honourable send-off and soon get homed in registered RVC centres at Meerut in Uttar Pradesh and Hempur in Uttarakhand. After serving the nation at the war-prone sensitive areas, they lead a comfortable but disciplined life with a regular morning walk, healthy meals, routine body massage, medical check-ups, and vaccinations.
Furthermore, these retired army dogs are available for adoption by dog lovers free of cost. Yes, anyone can adopt these Indian Army heroes, but only through proper army protocols. Before choosing a prospective family, there is a screening process done by the Remount and Veterinary Corps division of the Indian Army for the adoption of former Indian Army dogs and only suitable families are shortlisted. Interested dog lovers can make a formal request application for adoption at the following address with a valid identity and address proof.
-The application must be addressed to The Commandant, Remount Veterinary Corps Centre & College, Meerut Cantonment, Meerut – 250001 UP
-The request applications are forwarded to the Indian Army HQ for approval. Once the application is approved, the applicants are invited at the RVC centre to meet and adopt a retired army dog.
-Even after adoption, the RVC centre keeps a periodical tab on the adopted dog about its welfare. The criteria for approval emphasises that the new parent must have adequate patience and love, a caring attitude, and proper funding ability to provide the dog safe housing, healthy food, and medical amenities.
9. ACHIEVEMENTS OF DOGS IN SERVICE
The dogs in Indian Army and security forces are no ordinary pets as their history is full of valiant tales. The evidence of credentials of these brave warriors and the fact that the Remount Veterinary Corps (RVC) is decorated with a Shaurya Chakra and close to 150 commendation cards, is reason enough to prove their worth. Meet some of the mettlesome heroes honoured with Commendation Cards and gallantry medals from their Chiefs.
1- Sophie and Vida were felicitated by Prime Minister Narendra Modi during his 'Mann ki Baat' address on 30th August 2020. Sophie and Vida have been awarded the Chief of Army Staff 'Commendation Cards' for performing their duties diligently while protecting their country. Sophie, a Cocker Spaniel of the Special Frontier Force (Bomb Disposal Squad), helped sniff out the presence of an initiator which could have been used to make an IED. While Vida, a black Labrador from an Army Dog Unit in the Northern Command, helped detect the presence of five mines and one grenade buried underground.
2- Recently, Beed police bade a tearful adieu to their dog 'Rocky', who had helped solve more than 365 cases during his service years.
3- A two-year-old Labrador, Rosh, successfully caught a wanted terrorist, Hizbul Mujahideen, in 2019, about 1.5 km away from the site of an encounter. Rosh and his other four-legged comrades, Tapi and Clyde have been deployed with the 44 Rashtriya Rifles, which keeps a vigil on sensitive areas of south Kashmir, covering Lassipura in Pulwama, Imam Saheb and Shopian town. These canine warriors have been aiding the troops in locating IEDs, chasing violent mobs or tracking fleeing terrorists.
4- In 2019, Meena, a specialised 'explosive detection' dog, had alerted her troops about a 25 kilograms of IED planted on the national highway to target an Army patrol. The warning prevented a Pulwama-like situation.
5- Buzo, a silent sentinel of the Army, specialized under three wings: Assault (who attack the enemy), Tracker (who track movements of the enemy) and Explosive Detection Dogs (who sniff explosives), is among the more than 150 expert dogs with the military that maintain a tight vigil along the Line of Control (LoC) in the heights of North Kashmir.
6- In 2017, a three-year-old sniffer dog, 'Cracker' of the troops of the 170 Battalion, CRPF also attained martyrdom in an IED blast in Bijapur, Chattisgarh.
7- In 2006, Balram, sniffed out ammunition on the route of the Amarnath Yatra. In 2002, a brave female army dog, Bhawana, detected an improvised explosive device (IED), but unfortunately was killed along with her handler when it was triggered while being defused.
8- Mansi, a four-year-old Labrador was the first canine to have been selected for a posthumous war honour. She was a member of the army's tracker dog unit. Mansi was honoured with the 'Mention of Despatches' certificate. Her name appears in the Gazette of India for making supreme sacrifice for her motherland. Mansi, along with her handler, were involved in the killing of a terrorist at Kaisuri ridge in the Tangdhar area, followed by the gunning down of two militants in 2015.
9- Devil and Gem, who have been trained as Assault Dogs, keep anti-national elements on their heels and do not spare any of their enemies. Recently in 2019, Gem nabbed a militant who had escaped from an encounter site in North Kashmir. After sniffing the encounter site, Gem picked up a smell and led his pack to a third militant hiding in a house.
10- Currently, there are over 1200 trained dogs in the Indian Army. All the dogs of the canine army unit have assisted in thousands of successful counter-terrorism cases, including cases of recovery of IEDs and explosives; tracing terrorists in hideouts, leading to their elimination; cases of recovery of live individuals and mortal remains in snow-bound areas; and cases of recovery of arms and ammunition hidden by assassins and terrorists.
CONCLUSION
We will always be indebted to the efforts and services of all the canine soldiers in safeguarding their country and its citizens. Surely, there is a way that we can do something to make their lives better. Since these canine friends are available for adoption, the least we can do is to make use of this opportunity to adopt and to encourage each other to come forward and take one home as a lovely companion. This' perhaps the best tribute we can pay to our unsung four-legged heroes.
"I pledge to adopt an ex-army dog as a gesture to salute our four-legged soldiers.
Will you?"